Sweetheart Ride Road Rally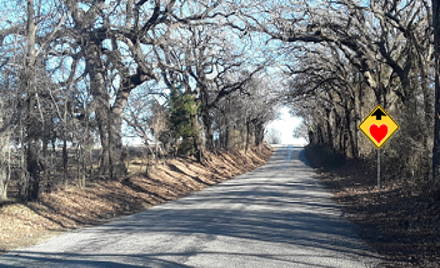 SCCA - Texas Region - RoadRally
Sunday, February 28, 2021
Wise & Denton Counties (TX) roads
,
Decatur

,

Texas
Registration closed February 26, 2021 11:59 PM at 2021-02-26T21:59:00-0800 Registration ends February 26, 2021 11:59 PM at 2021-02-26T21:59:00-0800 Registration opens January 20, 2021 2:00 PM at 2021-01-20T12:00:00-0800 Registration runs from January 20, 2021 2:00 PM to February 26, 2021 11:59 PM

NOTE: Sweetheart Ride postponed one more week to Sunday February 28, 2021 due to effects of weather.
Join us at Buc-ee's (near Texas Motor Speedway) for the first rally of our new season. After about a 90 mile drive on some of the scenic hard surfaced country roads in Denton and Wise Counties, you and your sweetheart (or rally partner) will end up back at Buc-ee's. As usual, Jerry White will be the rallymaster for this event.
This rally is about solving puzzles (many related to sweethearts) using signs and objects found along the rally route.  One penalty point will be assessed for each correct solution you don't mark as being found and one penalty point will be assessed for each incorrect solution you mark as being a found correct one.  Low score wins.  Puzzles can have from zero (0) to four (4) correct solutions.  There will never be more than one puzzle active at a time. This is not a contest of speed or racing.  The rally will make use of the Richta GPS smart phone app to help navigate the course and a Google Forms template for entering puzzle solutions in real time on a smart phone, tablet or laptop. We will send you information on these tools after you pre-register, and conduct a brief Rally School via Zoom ahead of the event to help prepare for the rally. For details on the Rally School and to pre-register, got to msreg.com/SRRR21RSmsr.
In light of the current COVID-19 situation, every attempt will be made to minimize the risks of exposure to the virus. New processes and procedures have been developed and will be put into place to support this objective. You should not have to get out of your car.  All of the registration materials and rally materials needed for the event will be available online or sent to you via email, and can be completed there or, if applicable, you can print them and bring them with you. In some cases (e.g., Minor Waivers that have not been notarized) we will witness you signing the completed form.   
Ultimately, it is your responsibility to assess the risk to you and to make the decision on whether or not to participate. If you are feeling unwell or are experiencing symptoms such as fever, cough, or shortness of breath, please stay home. If you have been in contact with someone who has been experiencing these symptoms in the last two weeks, please stay home. While on site, please take the health and safety of your fellow participants, volunteers and staff into consideration and practice social distancing, wear a mask, and wash your hands and/or use hand sanitizer frequently.
If you are diagnosed with COVID-19 within two (2) weeks of attending an SCCA event, we ask that you notify the event Registrar immediately.
Awards: First Timers, Novices (every person in the vehicle has won 2 or less rally trophies), and General Class.

Optional Master Class for those who want bragging rights but don't want any more trophies.

Start and finish at: Buc-ee's parking lot, 15901 N Frwy, Fort Worth, TX  76177

Registration/Check-In: 11:00 am – noon.

General Instructions Review: conducted during Rally School via Zoom session ahead of event – details and pre-resgistration at

msreg.com/SRRR21RSmsr

.

Mandatory Safety Briefing: 12:10pm

Car 1 receives their Leg 1 Route Book: 12:21 pm (Car 2, 12:22pm, etc.)

There will be a rest break in Decatur.

First car should finish at Buc'ee's parking lot around 5:00 pm; results to be announced and trophies awarded around 6:00pm

Automated scoring using Google Forms on a smart phone, tablet or laptop.

Vehicles: Sports cars, family sedans, pickup trucks, SUV's and anything else with 4 wheels that's street legal (bring something that you will be comfortable in and will have fun driving on back roads and byways, many of which are oil & chip). Speed is not a factor.
At least two people (a driver and a navigator) are required in each car; contact rally@texasscca.org if you have a minor child (<18) in the car, as a form will need to be signed.
SCCA membership requirements: at least one SCCA Member required in each car, either regular/annual Member or Weekend Member; if not currently a Member, you will be able to become a Weekend Member during online pre-registration

Rally entry fee: regular SCCA Members $25; Weekend Members $35 (includes membership fee). You must preregister on MotorsportReg.com. 

About two weeks before the rally the General Instructions will be posted on https://roadrally.page. About a week before the event the General Instructions will be emailed to those who preregister by then.
Contact the rallymaster at jerryw@illinoisalumni.org if you have any questions.
Come on out and discover what game/trivia/adventure (GTA) rallying is all about!
All entrants must pre-register – no same-day registration allowed – and you are advised to pre-register as early as possible. Notice too that registration closes two days before the rally, rather than the evening before the event. To pre-register, page down and click on "Continue". The Rally Committee reserves the right to limit entries.
This is the first event in the 2021 Texas Region SCCA Championship RoadRally Series. The rally is sanctioned as a Regional Rally by the SCCA under Sanction Number 21-RRRG-20751; it does not qualify for the National SCCA RoadRally Championship.
Texas Region SCCA (www.texasscca.org) is affiliated with the Sports Car Club of America (www.scca.org). With over 67,000 members, and with Regions all over the US, the club offers car related activities in a broad range of automotive events.
For more information on the RoadRally Series, visit www.texasscca.org/rally