Aftershock National Tour Rally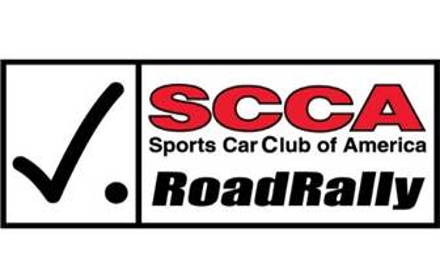 SCCA - Texas Region - RoadRally
Sunday, October 24, 2021
McKinney TX & Collin County roads
,
McKinney

,

TX
Registration closed October 22, 2021 11:59 PM at 2021-10-22T21:59:00-0700 Registration ends October 22, 2021 11:59 PM at 2021-10-22T21:59:00-0700 Registration opens August 13, 2021 2:00 PM at 2021-08-13T12:00:00-0700 Registration runs from August 13, 2021 2:00 PM to October 22, 2021 11:59 PM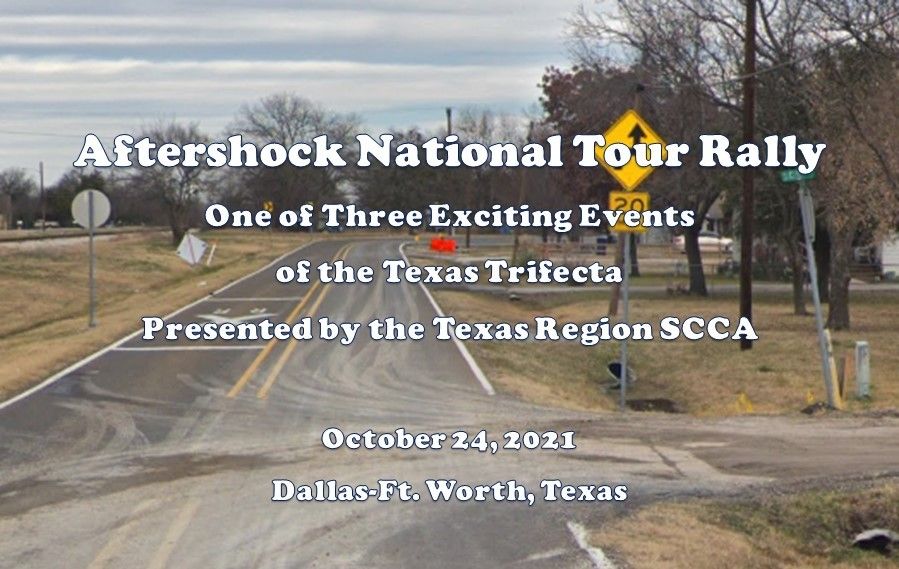 Join us this Fall to help us celebrate 70 years of the Texas Region SCCA with a fun-packed weekend of National-level RoadRallying on some of the best rally roads in North Texas. The Texas Trifecta includes three events: ONTO Fall National Course Rally and ONTO Fall National GTA Rally on Saturday, and Aftershock National Tour Rally on Sunday. Liz Witt is Rallymaster and John Poulos is Chairman for all three events.
Aftershock National Tour Rally: a 165 miles scenic tour on the best paved (and they're mostly good) roads of Collin and Grayson Counties. Just two very short unpaved sections. With fun speeds and some timing controls in challenging places. This is a precision driving event. We give you speeds to travel and then time you at points along the route to see how well you maintain those speeds. It is not a contest of speed or racing. Timing will be with the Richta app. We will send you information on it after you pre-register.
We conducted a brief Rally School via Zoom on October 9th, and made available an optional short test rally that you can run to see how the app works before rally day. For those who couldn't join the live session, we posted a YouTube video of the session [ASTRS21 Rally School Zoom Session 100921]. While this school was geared to novice or less experienced rallyists, everyone is welcome to review the school materials. NOTE: The Rally School and any slide decks related to it may contain information that differs from or contradicts information contained in the Aftershock National Tour Rally General Instructions. In all cases the G.I.s take precedence.
Pre-registration on MSReg.com required. In addition to this Tour Rally, you can enter either the Course or the GTA event on Saturday. If you're running Saturday and Sunday events, you must register for each separately.
In light of the current COVID-19 situation, every attempt will be made to minimize the risks of exposure to the virus. New processes and procedures have been developed and will be put into place to support this objective. Ultimately, it is your responsibility to assess the risk to you and to make the decision on whether or not to participate.
Headquarters Hotels: side-by-side properties
SpringHill Suites Dallas McKinney/Allen, 2660 S Central Expy, McKinney, TX 75070 (469-678-5047) – registration/check-in at this property
Book your group rate for SCCA Road Rally by October 4th. Includes a free hot breakfast buffet.
Home2 Suites by Hilton- McKinney, 2630 S Central Expy, McKinney, TX 75070 (4696785045
Home2Suite SCCA Rally Group Rate by October 4th. Includes a free hot breakfast buffet.
Tentative schedule:
Friday, October 22
5:00 PM to 8:00 PM Optional Registration/Check-in at headquarters hotel.
Sunday, October 24: Aftershock National Tour Rally
7:00 AM to 8:00 AM Check-in for teams not running a Saturday rally
8:01 AM Car #1 receives Route Instructions
8:31 AM Car #1 starts rally at headquarters hotel
~ 3:30 PM Car #1 finishes rally.
Length: approx. 165 miles (~6 ½ hours, including breaks)
Lunch break in Sherman: 45 minutes (options to be provided)
Finish: El Fenix Mexican Restaurant, 3450 S. Central Expy, McKinney, TX 75070; results to be announced and trophies awarded there.
Rally type: TSD (Time-Speed-Distance) Tour
Classes: E (Equipped), L(Limited), S (Stock), SOP (Seat-of-the-Pants - no timing calculations may be performed; a smart phone, a clipboard and pencil are all you need)
Route: paved roads in Collin County and (some) in Grayson County
Vehicles: Sports Cars, Family Cars, Classic Cars, Antiques, anything with 4 wheels that's street legal is OK in this Rally. Note: speed is not a factor.
At least two people (a driver and a navigator) are required in each car; contact rally@texasscca.org if you have a minor child (<18) in the car, as a form will need to be signed
SCCA membership requirements: at least one SCCA Member required in each car, either regular/annual Member or Weekend Member; if not currently a Member, you will be able to become a Weekend Member during online pre-registration
Rally entry fee:

Regular SCCA Member competing for National points (classes E, L, S): $60
Regular SCCA Member not competing for National points (SOP class): $35
Weekend Member not competing for Nat'l points (SOP class): $45 (includes membership fee).

Rally Master: Liz Witt. Direct questions about rules or rally design to Liz at

lizwitt@yahoo.com
Registrants will be emailed the rally rules at least 14 days before the event. All entrants must pre-register – no same-day registration allowed – and you are advised to pre-register as early as possible. To pre-register, page down and click on "Continue". The Rally Committee reserves the right to limit entries.
Texas Region SCCA (www.texasscca.org) is affiliated with the Sports Car Club of America (www.scca.org). With nearly 65,000 members, and with Regions all over the US, the club offers car related activities in a broad range of automotive events.
This is the sixth event in the 2021 Texas Region SCCA Championship RoadRally Series. This event is sanctioned as a National Tour Rally by SCCA, under Sanction Number 21-RRNT-20745; as such, it qualifies for the National SCCA RoadRally Championship. If you enter as Class SOP, you qualify for Regional points but not National points.
For more information on the RoadRally Series, visit www.texasscca.org/rally